I can't wait to see these tulip flowers to come back in spring time next year. Time is passing so quick right now. 2009 is almost ending. I am wishing you all a great holiday season. I might not be here to greet you on time so I decided to greet you in advance. I will be away for a long vacation to my home country by end of this month. I will try to update my blogs from time to time. Of course, I will also share photos of the sun, blue sky and the lovely beaches from home.
Take care guys and have a lovely Sunday too!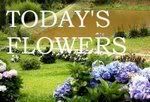 Click the logos to join and see participants of these wonderful memes! Thanks to respective Authors for hosting these beautiful memes! Have a great week to all!